At home or in-store,
we're here for you



Browse new models
No models were found for this category.
New Chrysler, Dodge, Jeep & RAM Vehicles for Sale or Lease in Attica, NY
Some drivers need a large, safe SUV to carry their family. Some drivers need a powerful work truck to haul their cargo in Batavia. Some people need a reliable, capable sedan to get around upstate New York. With popular models such as the Jeep Grand Cherokee, the Ram 1500, Ram 2500, Ram 3500, Dodge Challenger, Charger or Durango, New Jeep Grand Cherokee or Wagoneer, Jeep Compass, Chrysler Pacifica, the Chrysler 300 and more, we know we have something for everyone.
Not sure exactly what you're looking for? Our team of auto experts will work with you to learn your driving wants and needs, and they will help you find the best vehicle for your lifestyle.
Used Cars, Trucks & SUVs for Sale in Attica NY
If you're not sure about driving a new Chrysler, Dodge, Jeep, or Ram vehicle, we can still help you. We know you'll find something in our wide selection of used vehicles for sale at our dealership near Perry NY. Buying pre-owned can be a great way to get a relatively new vehicle for cheaper, and can help you get more automotive bang for your buck. Every used model is a classic with a story, an affordable vehicle that has already proved itself once. We also offer a selection of certified pre-owned vehicles for drivers looking for extra peace of mind.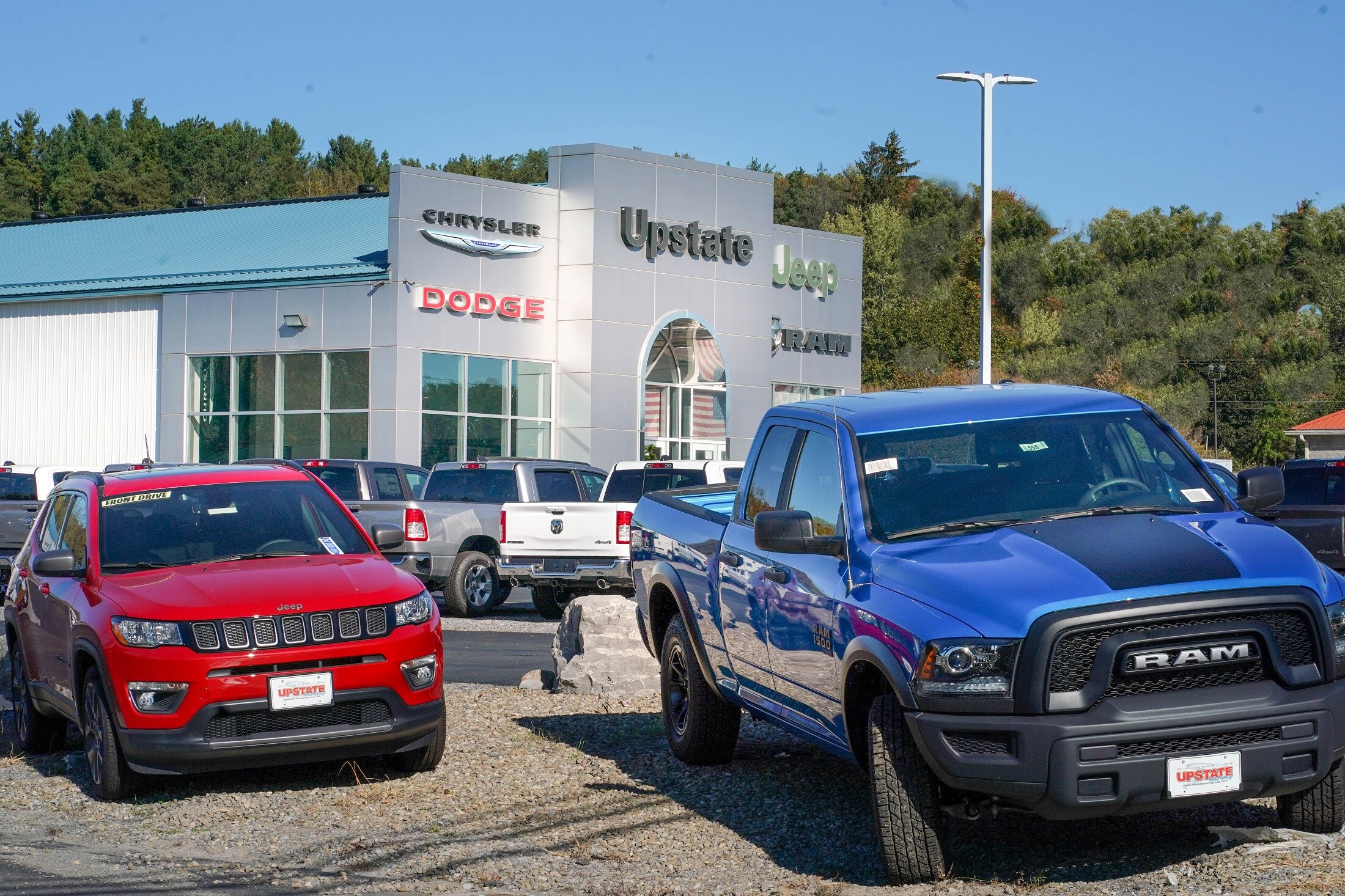 CDJR Service Center in Attica, NY
Once you're the proud owner of a new vehicle, we're here to help you take care of it. The professionals in our service center know their way around everything with four wheels, inside and out. We make sure to use authentic original equipment manufacturer parts in our service center. We know that "one size fits all" parts rarely actual fit anything. OEM parts, on the other hand, are designed for your vehicle in particular. They are made by the manufacturer to be an exact copy of existing parts. Whether you need regular maintenance like an oil change or tire alignment, or if you need more serious auto repair near Pavilion NY, we're here to help. We will help keep your vehicle running as smoothly as the day you got it for many years to come.
Auto Financing, Leasing & Special Offers
Once you have found your dream car or truck, the next step is auto financing. We believe that auto finance should be as painless as possible, so use our online car shopping tools to find the right fit for you. Our team of finance experts can help explain every step of the process. They will make sure you get an auto loan that suits your budget, and that will help you build credit. If you're not sure if you should buy or lease, you can explore the pros and cons of each, and find the best payment option for your lifestyle in Wyoming NY.
Visit Upstate CDJR in Attica Today!
At Upstate Chrysler Dodge Jeep Ram, we're proud to offer a little bit of everything. Whether you're looking to buy or lease, new or used, we have something for you. There are many different dealerships to choose from, but none is as passionate about quality as we are. If you're looking for a new car to really love, there is one clear choice - Upstate Chrysler Dodge RAM & Jeep dealership in Attica, NY.